E-Commerce Website Development

Revolutionize your business with our expert e-commerce website development services, tailored to boost your online presence and sales.
TURN EVERY VISITOR INTO A BUYER
E-Commerce Website Development In Dubai
Your eCommerce website is the reputation of your online retail business. Creating justified user-journey is the key to winning your audience's hearts. With relevant products and a navigational website, your prospects have a reason to stick around—and keep coming back for more.
With a website tailored to your customers' needs, you need to optimize for UX, whether your prospects are on desktop or mobile.
By designing rich E-commerce experiences, you can boost conversions, engage customers, and build brand equity. Discover E-commerce web development services with Heiz Marketing.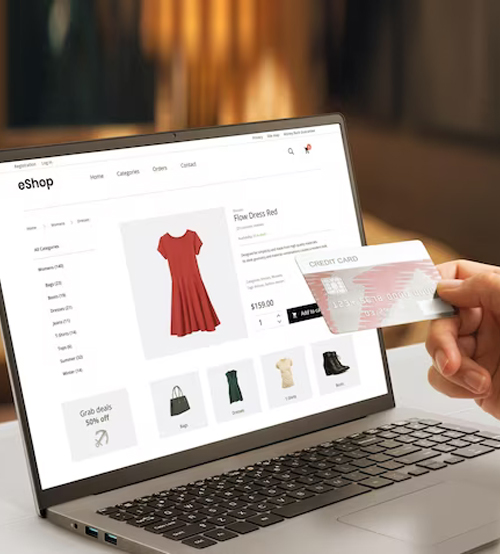 Our Ecommerce Plan for Success
Our expert Ecommerce website developers in Dubai execute websites on Laravel, Magento, Shopify, WooCommerce, open cart, Prestashop, and even customized solutions for your needs.

We start the process by understanding your business objectives. We then customize your project requirements to meet your goals. To increase your sales to the extent level;, we leverage design psychology to build a sense of inquisitiveness that'll inspire customers to take action. Then, we provide constant updates so you can see how your site takes shape.

Good E-commerce web development goes beyond eye-catching design. Seamlessly integrating all your systems involves having the right logistical power to avoid roadblocks and other unforeseen challenges. From your inventory management system to your invoicing software, we'll make sure everything's properly integrated to keep your business moving forward.

Testing and Website Launch
It goes without question that your customers need a functional, navigational website. Our eCommerce website development team follows a rigorous QA testing process, delivering top-quality, bug-free websites. Each site goes through functionality, performance, and usability tests for optimal user experience. Then your website is ready to go live.

Site Management and Support
Making sure that your site is fully responsive is paramount to user experience and improving your SEO. You can count on us to keep your data fully optimized and your system scalable to use. We let you take complete control of your site by teaching you how to set conversion goals as well as how to track visitor behavior, revenue, and more.
Let's Create Something Great Together
Our work gets people talking. And that's because we don't just adopt a cookie-cutter approach to E-commerce web development; we get things done your way.
What Our Cutomers are Saying About us